Welcome to Straight 8 Estate
STRAIGHT 8 ESTATE is located at the top of the Canterbury Plains half an hour drive south of Christchurch in the Burnham area. The vineyard was planted in the mid 1980's through to 1992.
We produce an award winning range of single vineyard wines, ROSE – RIESLINGS – CHARDONNAY – PINOT NOIR that express our terroir and flavours, giving you great wines that will cellar well.
Available from our cellar door (open 7 days a week on State Highway 1) look for the big WINERY sign with the Straight 8 cruising through the vines, exactly 6kms south of Rolleston, or buy online today, and have the wine couriered to your door.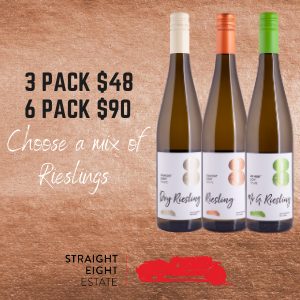 3 bottles of Riesling for $48 or 6 bottles of Riesling for $90. Free freight within Christchurch.
$5 freight anywhere else in New Zealand. Limited time only.
Click here to buy online, or email us at info@straight8estate.co.nz